NOTE: This blog post was originally the feature article in our June 1st, 2017, Newsletter. You may read the entire newsletter by clicking HERE.
Integrated art programs bring assigned texts to life
Several of Creative Art Works' literacy-based programs this spring invited students to explore point of view, mood and identity as represented in classic works of art as a means of better understanding these same devices in writing.
The Visual Narrative class, which was made possible through a grant from long-standing supporter West Harlem Development Corporation, was offered to eighth-graders at Hamilton Grange Middle School and ninth-graders at A. Philip Randolph Campus High School with the intention of creating continuity across grades. The challenging reading selections included The Perks of Being a Wallflower by Stephen Chbosky and The Curious Incident of the Dog in the Night-Time by Mark Haddon.
Christopher John Francis Boone, the protagonist of The Curious Incident of the Dog in the Night-Time, knows all the capitals of all the countries of the world and every prime number up to 7,057. He relates well to animals but struggles to read human emotions. He cannot stand to be touched, and he detests the color yellow. While it is never explicitly spelled out the novel, many Hamilton Grange Middle School students were able to infer that 15-year-old Christopher lives with a some form of autism or Asperger's Syndrome. To understand point of view, students in the eighth-grade Visual Narrative program created symbolic portraits of Christopher. One Student drew him as part robot to convey his very literal mind. Another drew him with the the close-cropped beard and hair typical of teenage boys in the Hamilton Heights, but with a cloud of shapes and scribbles swirling around his head to indicate his unique thought process.
Students at A. Philip Randolph Campus High School made personal connections to this story by offering the world a glimpse into their own heads with symbolic self-portraits.
The Perks of Being a Wallflower deals with the search for self-identity in the face of adolescent traumas. These subjective portraits aim to capture the inner emotions of the characters in the book.
A Sense of Place
Students in the Dual Language Learning program at APRCH used art to explore the literary device of sense of place. About half the students in this bilingual immersion program grew up with English as their primary language while the other half are English Language Learners and Spanish heritage speakers, but all of them live in a multicultural community, and many of them have family in other countries.
For their final project, students created a painting that represents their home (or "hogar" in Spanish). They then wrote artists statements in both English and Spanish that explain how their painting relates to their sense of personal identity and their place in the world.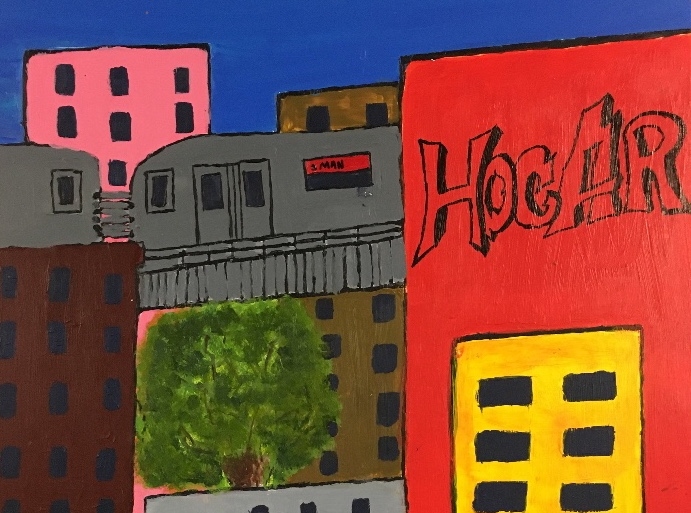 This piece symbolizes all the hard work that comes with adaptation. The colors go from dark to light to show the struggle everyone goes through when moving to a foreign country, but at the end there is hope and that there is a paradise.
- Juan Cruz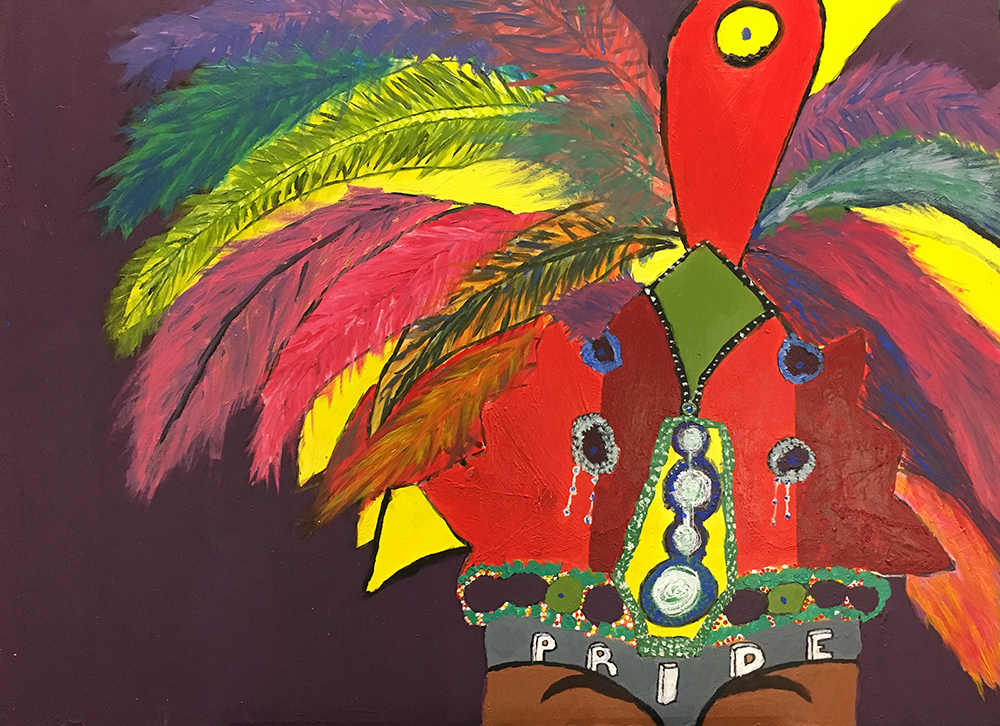 The Carnival is a festivity where fundamental elements of our ancestors' Native Americans and Afro-American identity converge on the streets, where social and economic differences disappear, and where society unites to celebrate life with rhythm, "Sabor" (flavor) and color.
- Camila Llenas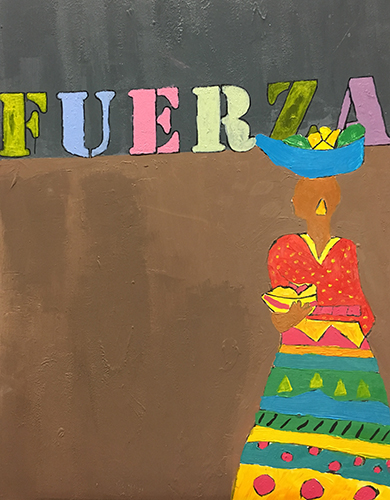 The drawing of the lady carrying a basket full of fruit is a well known figure in the Caribbean. The painting symbolizes all the hard work done by many people in order to survive. During this project, I gave my best effort to learn from Ms. Jaffia and from my classmates. My experience in this art program has been full of laughter, learning and hard work. Now I see my classmates not only as friends but as my complementary colors.
- Kimberly Geraldino
Want More Stories and Photos?
Speak for Yourself!
A Message from our Program Director
Art Lights Up Literature:
Integrated art programs bring assigned texts to life
In a Perfect World:
Students in after-school Urban Design program design a neighborhood that meets their needs
Wearing Your Heart on Your Feet:
Sneaker Design programs offer young people an opportunity to create their own personal brands
Meet the Artist:
PAL Polo Grounds Sneaker Designer Niera Simmons walks us through her design process
Encouraging Teens to Talk Back:
Students in Food Countermarketing program take aim at sugary drinks
Drawing with Your Ears:
Blindfolded drawing exercise in Forensic Art Program produces surprising results
CAW Welcomes New Board Members:
Creative Art Works Welcomes Jamie Watson and Bevin Savage-Yamazaki